Look below for our current special offers and available gift cards you can buy for your friends and family.
Special Occasion Or
Birthday Coming Soon?
Whether a birthday is coming up or if the holidays are fast approaching, finding the perfect gift can be difficult. Why not give the gift of cleanliness with a gift certificate from 1.800Declutter or DUMP-A-DUMP DUMPSTERS? Clutter causes stress, especially when time to deal with the mounting mess seemingly never comes. But when you give a friend or loved one a 1.800Declutter gift certificate, you lift that burden and provide some peace of mind.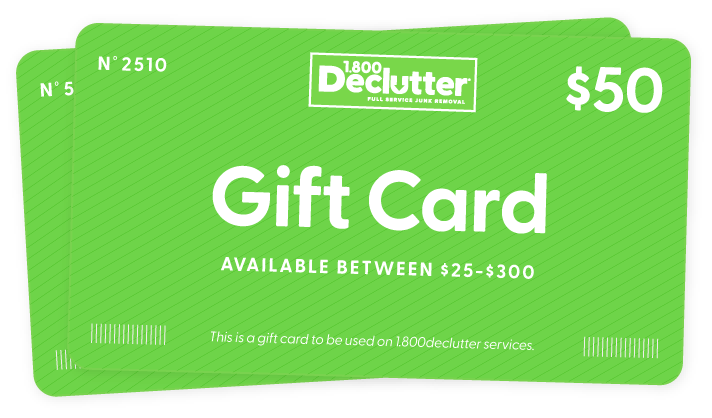 As people get busier and busier — working long hours, driving kids to extracurricular activities, and running constant errands — clutter mounts. Guest bedrooms become storage rooms. Garages become dumping grounds. There is simply not enough time in the day to sort through packed sheds and cluttered closets. Imagine the relief on your friend or loved one's face when you hand them a gift certificate for 1.800Declutter or DUMP-A-DUMP DUMPSTERS. Call now or click the button below to purchase a gift certificate that truly will be the gift that keeps on giving.